Discussion Starter
·
#1
·
I was on my way home from school and what do I see?
A Ferrari f355F1 right in front of me.
I speed up and cut through traffic to get beside him. He's going about 40 in a 45. Of course I coast right next to him for about 1 minute. Out of no where he floors it and takes off. What's the logical thing to do? I floor it to and get back beside him. He decides he wants to turn and he waves by to me. He was the coolest Ferrari owner I've met. I would have invited him to the board but he left.
For those that don't know what kind of car that is: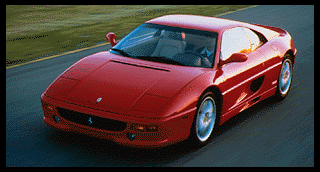 except his was silver.