I made a post about this last week in general that sparked some interesting discussion, but it was never intended to be a case study/searchable resource... More of a "woot, look what I found" thread.. That thread can be found here:
http://www.3si.org/forum/f1/you-guys-will-love-one-442406/#post5154453
Cliff notes of other post:
1: I install Supra pump in my car.
2: I think I'm really smart wiring in the stock resistor to keep from overrunning my stock FPR..
3: I'm not smart enough to search, and discover the pitfalls of this plan until AFTER I experience them myself..
4: I'm bent because it "should" have worked.. and go on a mission to find out why it didn't..
Now there are several methods of wiring a fuel pump that are attributed to Erik's work... For the purposes of this discussion, it is solely the practice of wiring in the stock fuel pump resistor to slow down a hotwired pump at slow engine speeds.. My entire fuel system is wired as standalone from the stock wiring. I used two relays signaled from the MPFI and the ECU.. Even the resistor is fed from the hotwire. Here's a diagram of my system: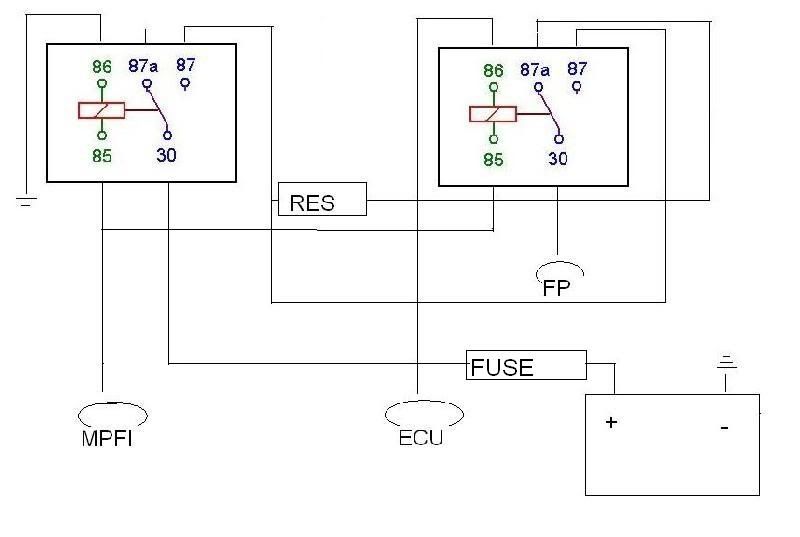 From reading the old threads, Erik gave up on the idea because there was an obvious fuel pressure variation between the low and high speeds that screwed with the fuel trims and would cause drivability issues like lean spots right before the transfer... These are the same symptoms I experienced.
Many of you will say "why bother.. Put in and aftermarket FPR" And you would be justified in that position... But I'm far too stubborn to let a solution lay undiscovered. And I had a pretty solid theory about what was going on. (and wasn't about to take a couple hundred bucks away from the white car build if I didn't have to)
So here is the Data I gathered: (bench tests w/stock regulator)
The stock pump hotwired at approx 13.6Volts, draws 10 amps making 45 psi (w/no vacuum)
The Supra pump under the same conditions draws 14 amps and makes 50 psi(overrunning the FPR)
Deadheaded,(up against the internal bypass) the stock pump draws 12 amps making 90 psi.
Under the same conditions the Supra pump draws 20 amps making 100 psi.
Conclusion: the supra pump is a huge power hog...
On to my car... Why are we getting the pressure fluctuations?
KOEO, battery charger maintaining 13.6v, jumper relay to hotwire mode: The installed Supra pump screaming along at 7500rpm, drawing 14-15 amps, and overrunning the FPR...
Jumper the resistor on line: The supra pump gets the wind knocked out of it.. Slows down to 3500rpm, drawing 7.5 amps... At this speed it will make less than 50 psi deadheaded... Starting the car, I discovered that on a snap throttle the pressure would drop, rather than go up like it should. The Supra pump simply could not supply enough fuel to run the car while turning that slow..
Conclusion: Too much resistor for that pump...
Now what to do about it..? I already had a plan... I wired a second stock resistor in parallel to the original, cutting the resistance in half.
Results:
5000 rpms, 10amps, normal fuel pressure(no overrun), and able to make 80 psi deadheaded... WOOT! I win!
I've been driving it around for a week looking for any signs of fuel control or pressure issues. I have to call this one a fix..
Thanks for reading..
Larry.