Discussion Starter
·
#1
·
I did some searching and surprised there has not been more discussion recently on seat covers.
I bought new/used seats about 15+ years ago because mine were shot and I didnt want to pay for recovering. Im a cheap ass. I also got a pretty good deal on ebay at the time. about 5 years ago my drivers seat started getting a couple areas worn through and the foam showing. Again I didnt want to pay $$$ to have them recovered and have been looking for resonance priced alternatives off and on the last couple of years.
About 2 months ago I decided to take the plunge on some ebay custom fit seat covers and I have to say for under $200 they are better than I expected. They seem well made, nice snug fit considering they are not stitched down and look 100% better than the old worn out seats.
I cant contest to how they will hold up yet but hopefully they will last more than a couple of years.
I am in no way associated with the seller and not getting anything out of sharing my post except the normal satisfaction of hoping it may help someone else.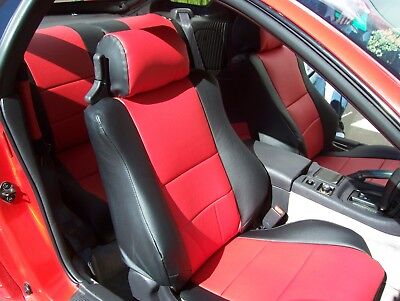 MITSUBISHI 3000GT 1991-1999. LEATHER-LIKE CUSTOM MADE SEAT COVERS.