Discussion Starter
·
#1
·
Group Buy: Power Sunroof Slider Repair - Retrofit Replacement Part
Hello everyone. Company closed and laid everyone off in effect of the corona virus, which finally frees me up for some personal projects I had staged for our community.
I would like to start a group buy on a part I designed to help facilitate repairs of the power sunroof assembly on 1997-1999 3000GTs without breaking the bank.
There are many of you out there that have resulted in no longer using your power sunroofs because of the inability to open/close the sunroof. This part will solve this problem
and allow you to enjoy your power tilt/slide sunroofs again. This has been tried and tested on my own vehicles.
Problem and Likely Causes
Power sunroofs rely on consistent lubrication of sliding assemblies. Most tilt and slide sunroofs utilize a wire cable which acts as a flexible acme screw; non-hydraulic boat steering uses the same principles. This is driven by a motor with a specialized tooth gear that pulls/pushes the cable equally on each side of the sliding rails. The majority of the tilt and slide characteristics are handled mechanically. The motor just pulls and pushes the wire. As you can imagine this wire and the parts that link to the sliders/rails see a fair amounts of stresses & forces. Hence why clean consistent lubrication is a MUST, both for the integrity of the cable / geared tooth and the attachment points. In our cars, the weakest point is where the cable attaches to the slider assembly. Seems as Mitsubishi may have tried to fix the problem, as early units were all one part (slider and cable). OR, they just made it so they only have to replace one part instead of three when the wire to assembly connection fails. Funny part is that because they moved to a new part, they had to provide the modified sliders which are now separate (maybe they thought they'd keep selling 3000GTs past 1999, who knows). Another reason could be for ease of manufacturing and/or service repair. Unfortunately it did not solve the problem, as the fundamental problem still exists that the plastic bits on the slider assembly are just too weak. Below I've summarized some of the obvious causes:
Lubrication fails on sunroof sliding assemblies which increases friction
Dust build up and attraction to lubricant within sliding assemblies which increases friction
Increased friction puts a strain on the injection molded ABS plastic parts crimped into the cable assembly
The plastic itself could also be fatigued from constant warm to cold temperature changes
Depending on environment and storage condition of car, sunroof may see very high temperatures for extended period of time, which may aggravate the deterioration and cause the plastic to become brittle
Part of the problem is that the wire and slider assembly is not available in the aftermarket parts world for our cars.
Possible Solutions
New OEM MR200678 - Regulator (alternatively called operating unit) ~$130-215+. Discontinued, not in stock at Cherry Hill, may be order-able if available at any other warehouse or warehouse in Japan (likely). This is the cable, copper guide tubes, and possibly the new sliders. Chances are the sliders are included but if not than MR236102 and MR23601 need to be ordered, which run at ~$15 / each. Although this shall solve your issues, the fundamental problem still plaques the power sunroof. With proper maintenance and attention to the lubrication you may get away with not having to complete another repair any time soon, but IMO this is just a ticking time-bomb. I would not recommend this route for those who daily or actively use their vehicles. The more you use the power sunroof the higher likelihood it will fail under this condition. The last thing you want is your sunroof stuck in the open position. Even if you go this route I recommend retrofitting my fix in place for good insurance down the road.
Metal Retrofit Cable to Slider Adapter (my custom engineered solution)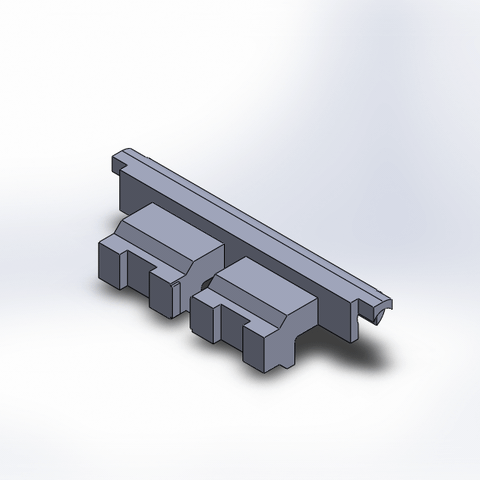 Metal upgrade for cable slider portion which is crimped onto cable in the form of an insert which preserves existing cable / regulator assembly, assuming driving cable itself is not the problem in your situation (low probability). For new regulator assemblies (if you can buy it) I recommend retrofitting my solution into place. Otherwise you have to repeat the sunroof repair which is tedious and you risk the chance of scratching or damaging something from repetative removals. This is installed by carefully removing plastic piece that is sleeved onto cable and crimped into place at each end. This can be accomplished through a variety of methods, but probably best with a dremel, vibrating saw, and/or snips. This retains the specialized crimp and existing cable that is otherwise fine due to the convenient keyed features of the existing metal crimps.
Currently working on securing a partner(s) and details to undergo one of the following manufacturing methods:
DMLS (Direct Metal Laser sintering) or SLM (selective laser melting) aka Metal 3D Printing
CNC'd out of billet
Possibly casting (although I may forgo this approach for this batch)
Depending on pricing, I may go with aluminum or stainless steel. May be anodized or plated (chromium or gold). My goal is to stay within the proposed cost for a pair as identified below. This part does not get wet while in operation, but my intent is to go with good corrosion protection, so it can be installed and forgotten about.
Proposed Ready to Ship Schedule
Mid to End of April (
tentative
)
Proposed Cost (project goal)
$65/pair plus shipping
Target Group Buy Lot Size
50 units (pairs) sold
Please respond with your interests or comments.
Open to constructive criticism or discussions, but keep conversations on topic.
I will run this as traditional group buys go with a constantly updated list of those signed up to purchase.
This group buy does not require a deposit until details are finalized (only fair way to proceed). However if you
respond with interest or PM me in order to make the list and must have intent to purchase within 1-2 weeks.
Please so intent by asking to be added to the list or sending me a private message.