So I finished up my car today.
NoCar's 7075 T-Case housing is absolutely stunning. It was
great
showing it off to friends.
The install was flawless. I removed the debris cover (exposing the flywheel) thinking that it was in the way, but at this point I'm not sure.
Here's how we shimmed my new t-case:
As there had been stock, I placed 3 shims under the inner race. We had 3 shims to play with to set the outer race.
3 was too much. We could tell this immediately because the GETRAG cover spun freely on the bearing of the gear.
If you attempted to tighten the cover, the bearing would no longer turn by hand.
2 of one combination of the 3 was too much.
1 was too loose. We could tell this by literally shaking the housing and listening for a clicking sound.
2 of one of the combination of the 3 seemed to be pretty good. When moving the spool and the t-case output shaft, we could hear them "click". According to Kormex this is only a bad thing if the gears are wet (our gears were very dry and clean, the bearings were lubricated with Mobile1 15-50 synthetic -
ha, I was out of redline that night, okay
? It felt fine to us. We didn't actually measure the backlash, however.
Anyway, the t-case went together perfectly and I decided to put a small brace on it designed to keep the mid section from ripping off NoCar's 7075 housing. It's very basic. I didn't want anything that wasn't easilly made (Time was not my friend this week).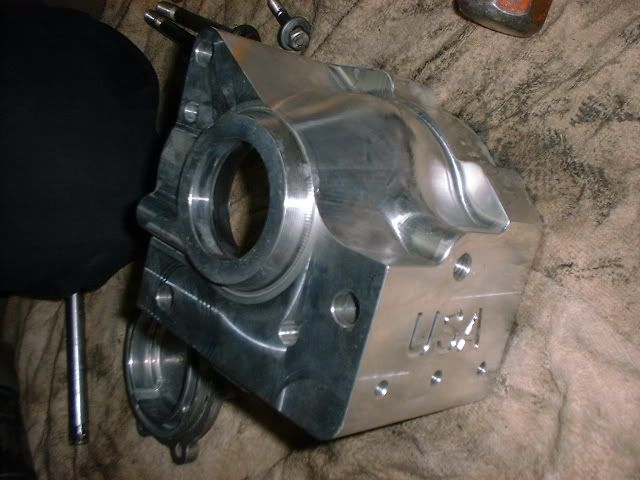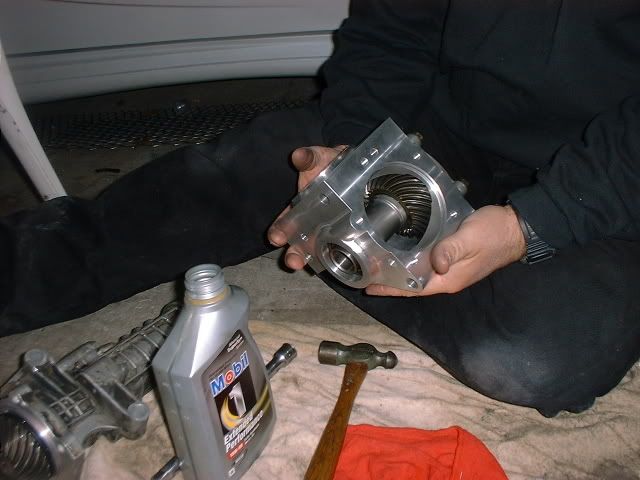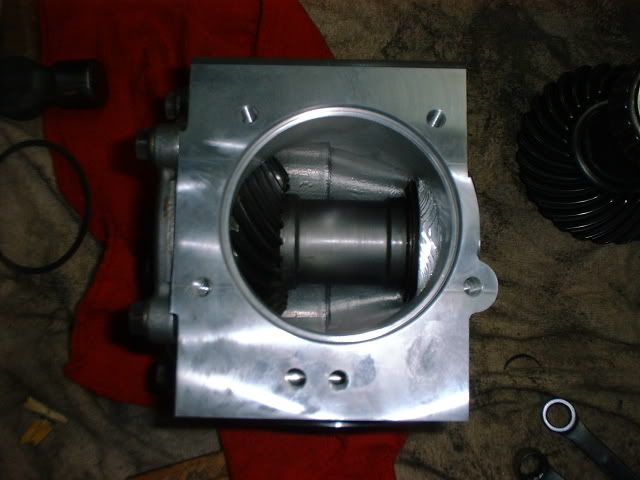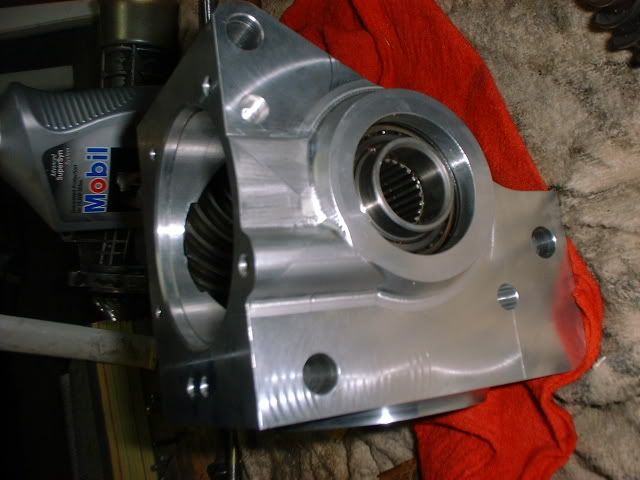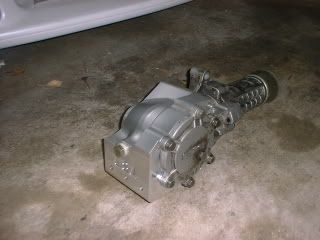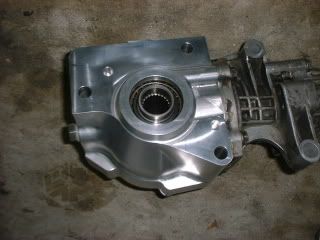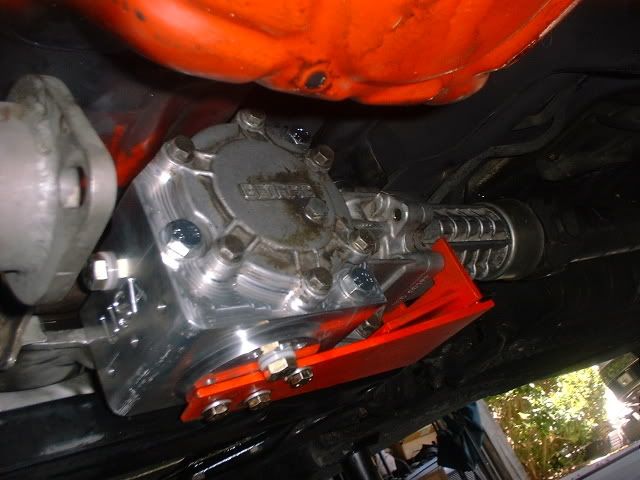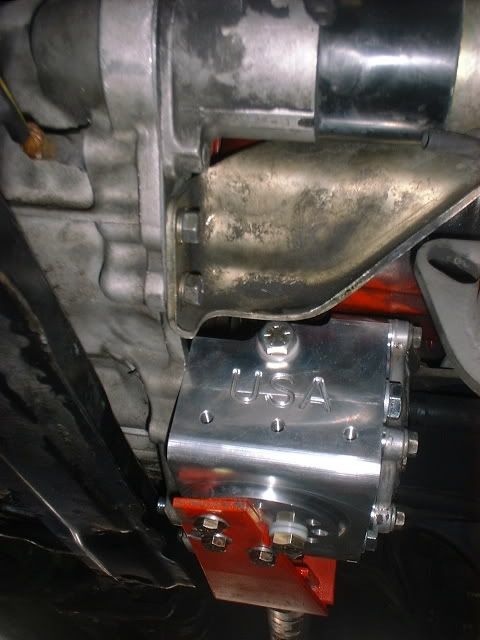 The case sure held a lot of Redline Shockproof Heavy
I drove it around the block at low speed, low rpm just to ensure it was lubricated well before trying anything. Everything was perfect. I launched the car, it launched very cleanly. No wheel hop at all, no tire spin.
So I went to the track tonight. My favorite track, San Antonio Raceway didn't hold a TNT Friday, Saturday, or Sunday this week, so I decided to try Temple Academy. Wow, what a shit hole track. Some dude slammed on my hood twice to get my attention (When I was sitting there with my window down and the car idling). The track felt like more like street racing. Seriously, the roads around my house are better tracks.
Anyway, enough building of the scene I guess.
First pass,
after doing a "burn out" launch, (and going completely sideways)
12.2x @ 103
I launched at 3500 rpm, slipped the clutch some
This netted me a 1.9x 60'
I shifted slow as balls on purpose, ran 1.2 bar and slammed the brakes before the traps - haha
2nd pass, after another "burn out"
Turn the boost up to 1.7 bar
The launch saw me go sideways...
Spun the tires thru 1st, and half way thru 2nd before my clutch started slipping. What the fuck? It spun all the way through 3rd and the RPM's just held steady at 4800 in 4th. I finally let off after determining that it was the clutch and not tire spin or anything else.
There were apparently sparks visible under the car during the pass.
I tried to adjust the clutch pedal thinking it may have been adjusted too far (I had pretty much maxed it out the last night attempting to achieve better shifting - which it did). It's a 6 puck clutch, I let it sit for 1 hour before making another pass.
I put on the drag radials at this point.
Did a "burn out" and cut my best 60' of the night... 1.79. Clutch gone after 1st gear.
There were apparently sparks visible under the car during the pass.
I took the car out on the highway, a little pissed. Mash it in 1st, nail 2nd. The clutch didn't seem to slip.
Going thru 2nd gear, a little knock. I pulled some timing.
3rd gear, no knock, damn this car is scary fast sometimes
Let's adjust the clutch a bit more and hope. The t-case has looked perfect under the car all night.
Launch again, go totally sideways thru 1st, ride the rev limitter in 2nd waiting for traction and shift to 3rd - clutch slips like a bitch in 3rd. I let off and coast... A little before the traps I punch the gas in 3rd at around 2800 rpm's and wait for boost, once boost builds a bit I feel the scariest shit my car has ever done. The front shook violently. I actually expected to see oil coating the windshield.
More sparks under the car during this pass.
A quick visual of the engine bay told me my pistons were fine, haha.
The car ran fine after I drove back to the staging lanes. I took Mario (marium3kgt) for a ride, fuck it, I want to enjoy the car.
WOT thru 1st, everything is fun.
Shift into 2nd, and the car started shaking violently.
Everything under the car looks perfect. The support brace for the drivers side axle is secured. Nothing is visibly loose. The driveshaft appears in tact. Nothing is even leaking.
I have no idea what failed. The clutch is fucking up so I'll be dropping the transmission. This is an RPS 6-puck with like 900 total miles on it. Everything was resurfaced and the install was very clean. I even broke it in for a few hundred miles. When I take the tranny out, I'm hoping to find a pressure plate failure of some sort.
The transfer case appears to be perfect and I feel very confident with it. Sorry I didn't get to very properly test them Sean. I'll be back at the track ASAP. I'm NEVER going to Temple Academy
http://www.templeacademy.com
again. SAR and HRP made this track look like something out of a nightmare.
Sorry for the long post,
Sean, you're absolutely the shit. This case is so awesome. I can't wait to go back because I'm so confident it will take anything I throw at it.