·
AWD Road Racing Fanatic
Turbo and NA 328-355 mm StopTech Brake Kits!
Hi Everyone!
UPDATE 4/6/04: Now shipping!
-------------
Supercar Engineering is currently in the process of collaboration with
StopTech
on the design of brake upgrade systems for all Dodge Stealth and Mitsubishi 3000GT models.
The unique features of StopTech kits are:
Tested and designed specifically for the 3/S cars with caliper pistons sized to optimize the brake balance and ABS performance.
StopTech ST-40 four-piston caliper utilizes a unique patented bolt-in bridge, making it three times stiffer than comparable calipers, which results in less vibration and noise, and better pedal feel due to less flexing.
Superior and unmatched quality!
StopTech Patent Pending AeroRotors® are manufactured at QS-9000 registered facilities. They flow more air than any rotor available, meaning less brake fade and longer rotor and pad life.
StopTech 7075-T6 billet aluminum AeroHats® are directionally vented for improved cooling.
Floating drive system with a unique Inconel® spring washer anti-rattle system allows for rotor expansion due to heat and virtually eliminates rotor warping.
Stainless steel braided brake lines for improved brake control.
Red or Black calipers are standard, other colors are available.
Available with a widest selection of brake pads.
Available for all Turbo and NA 3S models!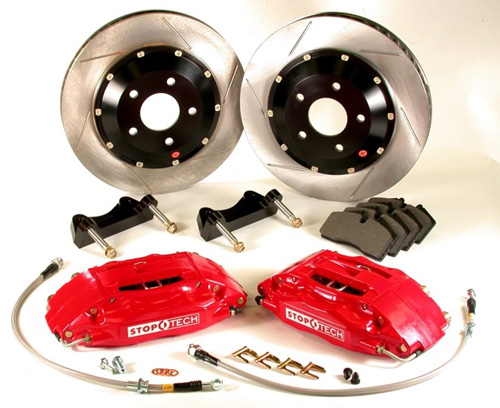 If you remember, StopTech kits took top three places in the brake competition during 2002 Sports Compact Car shootout where a 3/S car came second to last. These are great kits and StopTech is really a top-notch company.
The kits will be available exclusively through Supercar Engineering. I was asked to advertise discounts only during the product introduction period. I will not be able to do that later. Here it goes:
3000GT/Stealth NA - 328x28 mm AeroRotors - $1,895.
3000GT/Stealth Turbo - 332x32 mm AeroRotors - $1,995.
3000GT/Stealth Turbo - 355x32 mm AeroRotors - $2,595.
If you want to reserve the pricing I am asking only for a fully refundable $199 downpayment just to demonstrate your intent to buy. This would help me and StopTech plan the orders. Please specify which kit and if red or black color. Red and black are standard colors. Optional colors are $200. Yellow, silver and blue are the other
colors
that are available.
The kits uses standard-shaped Porsche brake pads. Axxis Ultimate come as standard brake pads with all StopTech kits. Other available options are Carbotech, Hawk, PFC, Porterfield, Ferodo, Pagid, you name it! Replacement brake pads are abundant.
Slotted rotors are standard. Plain are available for free. Drilled is a $100 option.
The 332 mm turbo kits fit stock 2nd gen turbo 17" wheels. The 355 mm turbo kits fit stock 2nd gen turbo 18" wheels. The NA kits will fit either wheel from the above, the 17" 97-99 SL wheels and probably many other wheels too. I can check which kit would fit into 1st gen 17" TT wheels if someone is interested. It is likely to fit moswt custom wheels too. For custom wheels I will have templates that you can print, cut out and see if the kit fits your wheels.
I am now taking orders. Email me at
[email protected]com
. My
website
states payment options (PayPal, cards, check).
Related links:
StopTech website
StopTech Balanced Brake Upgrades
Why StopTech?
StopTech ST-40 brake calipers description
StopTech directionally vented floating AeroRotors
UPDATE, 1/28/04:
Here are the templates to check the wheel clearances. A template needs to be printed, cut out with scissors and inserted into one of your dismounted wheels to see if it fits.
NA 328 mm:
http://supercar-engineering.com/pdf/ST-3SNA-328-Front.pdf
Turbo 332 mm:
http://supercar-engineering.com/pdf/ST-3STT-332-Front.pdf
Turbo 355 mm:
http://supercar-engineering.com/pdf/ST-3STT-355-Front.pdf
Philip
NOTE: These are the front only kits. Contact me if you want a four wheel kit.