UPDATE 3-5-10! TURBOS IN AND PICS UP!
woohoo! I finally get my own build thread. i just selected a set of turbos that i think will work perfect for my needs. i wanted the best power band for my new brain crower billit 6g74 crank stroker kit. the one from 3sx but the pistons say 3sx on the top.
i didnt want to make the mistake of picking a turbo that would only be happy at the track.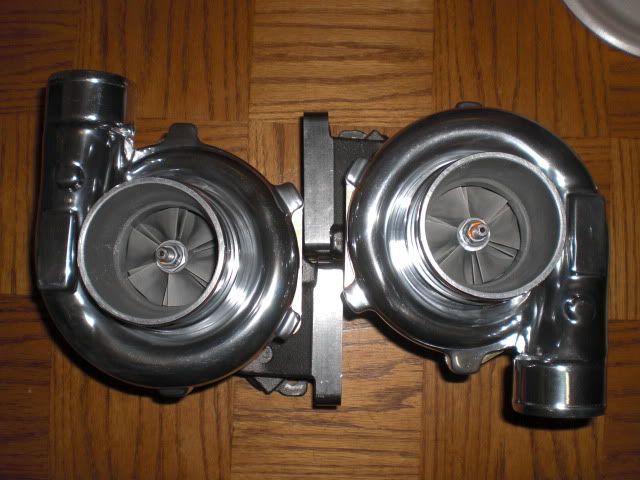 ba-bam!
3sx is gonna get me a set of tripple CERAMIC, ball bearing, 50 trims with a td05 hot side(pics when they come in but, i had to post about them cause im so excited!). said to out flow the ones they used to sell that i think is whats on chris's car. chris, please correct me if im wrong about this, i know you would have anyway
. anyway, paired with the stroker its gonna be a really fun car!
not gonna ever see a dyno(none in anchorage) but my guess is about 700awhp on pump at 19-20lbs. with the ability to put down approx 850awhp on race gas and higher boost. i wast interested in a high hp #, more like a super car with outragous power thru the band. total guess but heres my mod list:
power/preformance adders:
3sx tdo5 kit with ss headers,evo III,16g turbos,ss dumppipes,ss downpipe,tial external wastegates(1.0bar spring,leaded gas),dei header wrap,high flow fuel filter,bigger fuel lines,fuel rail adapter,fuel lab fuel pressure regulator with guage. denso fuel pump hotwired(rdr method at the pump),kenne belle boost-a-pump,arc2 with big mas,2 arm(narrowband a/f)units,one per bank,k&n filter,720 denso injectors,rps cynergy segmented flywheel,spec stage 4+ clutch,dynamic racing stage 2 heads(ported polished, headlift fix by ray),ported polished lower intake,custom plenum with internal velocity stacks,huge fmic,ceramic coated fmic pipes 2&3 inch,e boost 2 ebc,j&s safeguard timing control box(individual cylinder knock control),prosport digital egt and a/f ratio guages,hand held halo hybrid datalogger,oil catch can,radiator breather tank,hks super seq. bov(recirculated),solid motor mounts,tc bracket,rear cusco rear strut bar,solid motor mounts,tc bracket,rear cusco strut bar,billet oil pump gears,stillen drilled rotors&pads,ss brake lines,caliper stiffening bolts,samco hoses,single shot cat back,no cats,magnacore 10.5mm silcone plug wires,2 step colder plugs,19 row oil cooler,a/c delete,cruise delete,power radiator,flexalite fans,3sx cam gears.
stock shit replaced since 2009:
oil pump,timing belt,tb tensioner,tb pully,tb hydrolic tensioner,tb covers,water pump,power steering pump, ps tensioner pully,ps belt,alternator,alt. belt,harmonic balancer, a shitload of bolts!
siebon carbon fiber hood(dvII),carbon fiber dash kit, carbon fiber shift boot and knob, carbon fiber e-brake and boot,cooligan cf bra,boss six spoke rims (black chrome),general tire eclaime ultra high preformance 245-40-18,compustar alarm/auto start,10" sub with 200w amp,custom robo's with ultra violet cffl halos.
still stock:
shocks,seats,deck,paint, its always been about the engine to me.
im guessing i deff need to upgrade the fuel pump(from denso to 2x walbro+lines) to turn the boost up over 20ish lbs. cams are also gonna get in before summer, but that should keep me happy till i get to it.