Discussion Starter
•
#1
•
How are you liking those KW's Eric? Pro's, Con's, are they worth it?
The KWv3 make the car corner/handle/grip extremely well in all condition, good and bad roads, which is rare, most coilover are usually great on good/perfect roads only, cause they tend to make the car tail-happy on bad/bumpy roads. This one keep the car on the road.
To give you some comparison, when I had my DSM, it was fully built for lapping (Custom Jic Magic FLTA2 by John Mueller, custom Strut bars bolted on the fire wall, ST Sway bars, Quaife...) and I had this 'test' curve with some expansion joints (not a perfect road) where I was comparing any change in my set-up.
To give you an idea, the maximum speed I could take that curve with my fully built DSM was around 85mph, I tried 90MPH but almost lost the car right there. When I got my TT I tested it when it was stock and it was around 80MPH+, needless to say that the 3/S is naturally better at handling then a DSM. So when I installed the Coilover on the TT (it was the first and only handling mod on the car) I went for the same curve and got around 90MPH but with
studded 205'' winter tires
(I must say one thing though, they have improved the road with new asphalt in the while, but the expansion joints are still there) which is almost unbelievable, cause you cannot compare summer tires vs winter tires, hot vs cold temps like that.
Now since the summer I did not had the chance to try this curve before I got larger tires and suspensions bushings but now I can take it so fast, it's too scary/dangerous to continue to push the car, I saw 100MPH last I pushed, but it seemed to be able to take more. In fact it seemed 'easy' for the suspension.
Compared to the DSM, which I almost lost when I tried to make 90MPH, my TT doesn't have the Quaife in yet (which I saw a great improvement when I got that), no strut bars, no aft sway bars but handling/cornering/grip is already much much better. It's hard to imagine how much more it will improve when the Quaife and the center diff will be in.
For normal driving on good roads, the comfort is great, it's very decent. But on 'bad roads' when I hit holes and bumps, it's pretty hard, it really 'bang' hard, so this I do not like.
I must say KW customer's service sucks big time. When I bought the kit, one strut was defective, it took months before I was able to get a replacement, the employees there doesn't really care, they don't return calls, emails... plus they didn't really believe one strut was bad, so I had to buy one and replace it (it fixed the problem right away), they said they would refund it if it was really defective, now it took months before I could get a RA#, I could call them, email them, they said they would email me the form for the return, waited a few weeks, call back... I finally got the RA#, returned the defective strut, waited months, no news... so far I stayed extremely polite and patient, but I just told them they were stretching on me, I've been told they were actually torn it down, this is last week, no news yet. So far it's been a year since I began to deal with this problem.
So product is very good IMO, except for normal driving on bad roads. And customer's service is a real deception.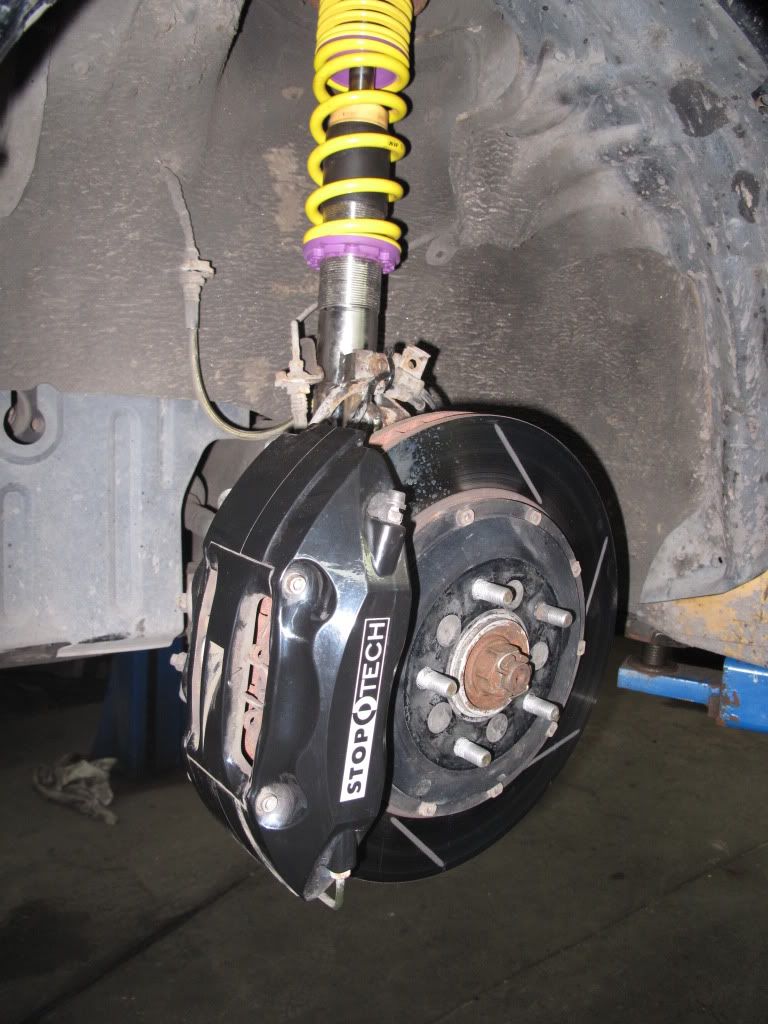 Eric