Impromptu South SD Pre-MOD Tuning/Tech Day Meet!
(Posting here since the SoCal3S board has been down for a while now.)
It is that time of the year again to get together! It is an opportune time for new owners to finally meet the OG's and become socially active and known.
By this time in the year, I would have normally hosted at least 2-3 major 3/S meets going into MOD (Mitsubishi Owner's Day - West Coast). Work and the new projects/campaigns that I am leading have consumed much of my spare time and left me burnt, BUT I always make accommodations!
whether it be tuning or attending the last two race events with a 3/S - another thread to come on that!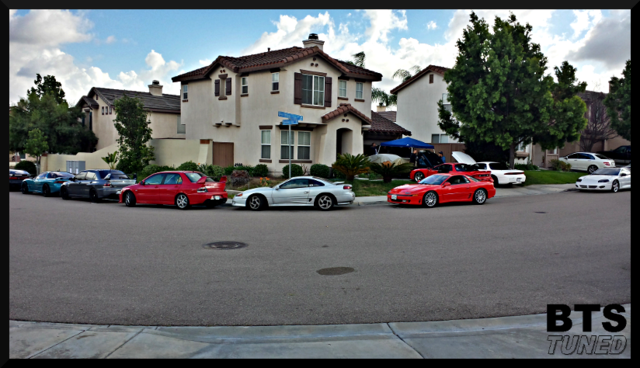 Who:
You! SoCal3S members!
What:
Annual "Pre-MOD" tuning/tech day meet hosted by ALan/BTS
When:
Sunday, June 26th, 2016
Where:
Chula Vista (Eastlake) in South San Diego
Why:
'cause all the cool cats will be there!
How:
Drive or tow your sh*t down! j/k about the latter, but it
has
happened before!
(I cannot copy and paste my typical format, so the following is based off of memory)
While the intent of these meets is to become more acquainted, break the ice for some, and have a good, chill time, productivity is still an emphasized goal. I will help provide "free" diagnostics, assessments, and build advice, however, actual tuning is NOT free and must be planned/agreed upon in advance. The charcoal grill will be fired up for lunch, so you are more than welcome to bring snacks or make a monetary contribution as others do. In the evening, we usually cruise over to a local eatery and kick it further.
List of attendees:
ALan - "bboyalan" - '92 Panda VR-4 w/ v3 build in progress
**Rob - Red '92 VR-4 - 9b's w/ full BPU+ and AEM Series 2 on Pump-E85 (Meth TBI!)
**Dustin - "pilot" - '96 R/T TT - 15G's w/ full support and ECUFlash on Pump-E85 (Meth TBI!)
Adrian - "bluee3000gt" - Red '91 VR-4 - Full BPU (Phantoms and new build TBI!)
Alex - "bigochevy82" - White '97 VR-4 - Full BPU (AEM Series 2 + fuel TBI!)
Erick - "aiRwrEcktiOn" - Red '95 VR-4 - WRX 13T's w/ more TBI!
Ben - "vr4allday" - White '94 19T/EMU/E85 & Black '99 VR-4
Nakia - Black '91 VR-4 - Light BPU
more TBD!
**denotes car being present
Pending:
Sal - Red '94 R/T TT - 9b's @20lbs on Pump-E85 (MORE TBD!)
more TBD!
Honorable Mentions:
Mark - "DuTTch" - '96 VR-4 600+wtq AEM/'99 VR-4 13Gentleman's Edition (abandoned us for FL)
Rob (on military deployment)
Agenda:
New, OEM coils + NGK wires for my DD RX-8
New NGK-8's and replace relocated battery for Rob's VR-4
Plan for SD MOD caravan in two weeks
Pressure-test, proper IAC set, and ignition timing check on Adrian's VR-4
Begin reassembling Adrian's 30 over short block
Finish disassembling and possibly hone my short block
more TBD!
Grub-a-dub-dub!:
Alan – turkey bacon wrapped hot dogs, supplies, water, etc.
(I have some alcohol but could use another run lol)
Adrian - sodas, chips, and cookies
Erick - bags of ice and chicken
Alex - burgers and beer
more TBD!
AS ALWAYS, IF YOU ARE NEW, then you MUST post an introductory thread explaining more about yourself and your car. I must be wary of who attends - no exceptions. If your name is not on the list, then you are not invited, period. ALSO, any and all guests must be mentioned and approved. This meet is for 3/S owners, and accommodations are made as such.
Please contact me directly for the address and contact number afterward. I will be awake early to get a head start. Parking will be assigned at our corner; my neighbors are understanding and aware of my/our typical activities.
Thank-you,
-ALan/BTS