·
Wheee! 2 wheels is fun!
Discussion Starter
·
#1
·
Care and feeding of IAC.
First, the acronym identifications.
IAC-
Idle Air Control
TB-
Throttle body
BISS-
Base Idle Speed Setting
ECU-
Engine Control Unit
Over and over and over again I see posts about idle problems. Strangely enough most seem to think an adjustment screw is the source of their problems. I'm guessing this goes back to carburetor days when it WAS a simple screw adjustment. Since electronic fuel injection has been on almost every vehicle since the mid 8o's, AND almost every one of those uses an IAC of some kind I would have thought the knowledge would be common by 2014. Sadly its not.
3si and stealth316 both contain IAC info, but they are both sort of fractured and getting all the dots connected has not been put in writing. Factory manuals do state maintenance and repair procedures but they were written when the cars were new and don't contain important things like your ECU will FRY with a shorted IAC.
Manual info is on 13A-153 if you want to read it.
OK, so your engine runs OK but idle is goofy. "Goofy" may include wrong idle speed as compared to what the hood sticker specifies, or it may be exercising your tach needle with a weird up-down-up-down speed problem. These two seem to be the most common, so read on for real info on what you have to do.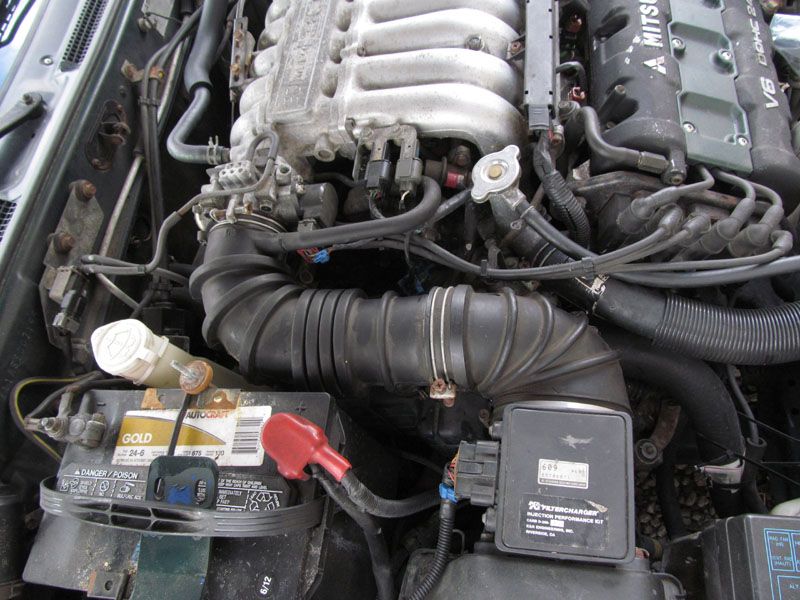 Where is it?
Remove the intake hose and you will find a large electrical connector just under the mouth of the throttle body. (TB) Press the latch and remove the connector. Under that will be either a brown or black device bolted to the TB by two 5mm bolts.
Get out your ¼" drive set and select an 8mm socket and extension to remove the bolts. If you are in the northern rust belt BE CAREFUL unscrewing these. They do get corroded and you can break them off if you get too ham fisted. Break them and you will have even more work to do. After the bolts are out, gently tap on the housing to get the IAC loose from the TB. It can be stuck from corrosion.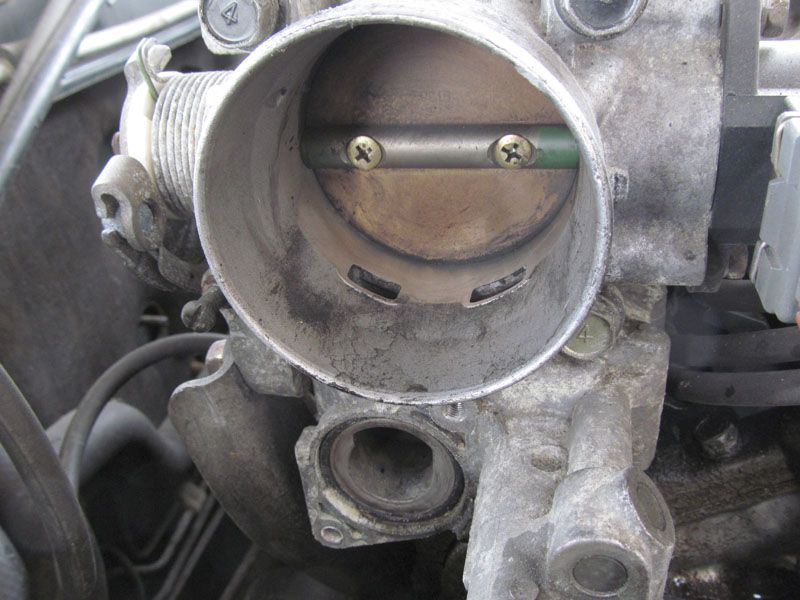 The pointy end has whats called a pintle. Give that pintle some gentle movement. It should have a little slop in it. If it has a lot, then its worn out. The end of the IAC will be fluffy black from deposits.This is easily cleaned with a good carburetor cleaner.
Next is remove the screws around the connector side and separate the two halves. There is a loose spring inside. DON'T LOSE IT!
You need to confirm that the body has stayed sealed and the inside is not full of rust or water. I have seen pics of rust damage.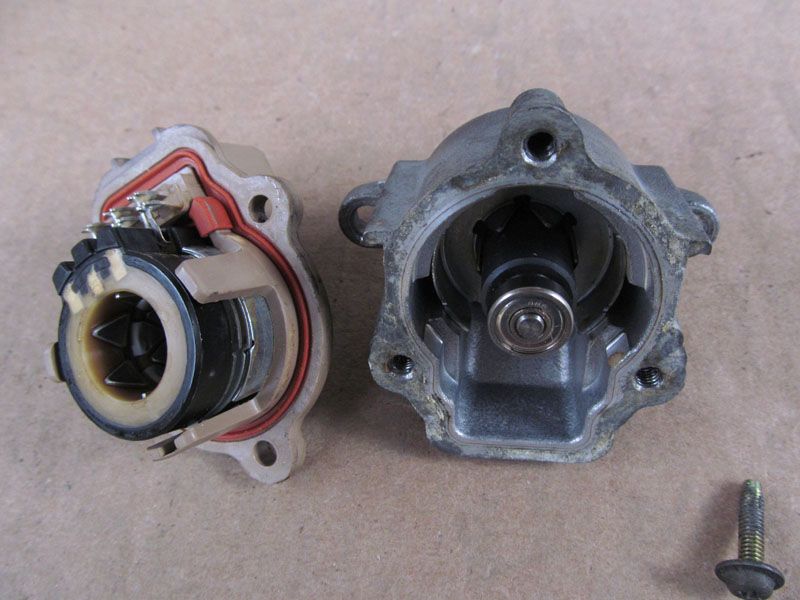 When its out, the FIRST STEP is to confirm it is NOT shorted. Get your multimeter. There is no excuse not to have at least one of these important tools at your disposal, especially when you can often get a free one from Harbor Freight with the right coupon. Even spending $20-30 at Sears is well worth it. You are testing the coils for continuity. Set your meter to measure Ohms at the lowest scale. Touch your leads together to make sure the meter is working and reads -0-. The contacts are in a 2 row by 3 column array. You are testing the contacts in the ROWS.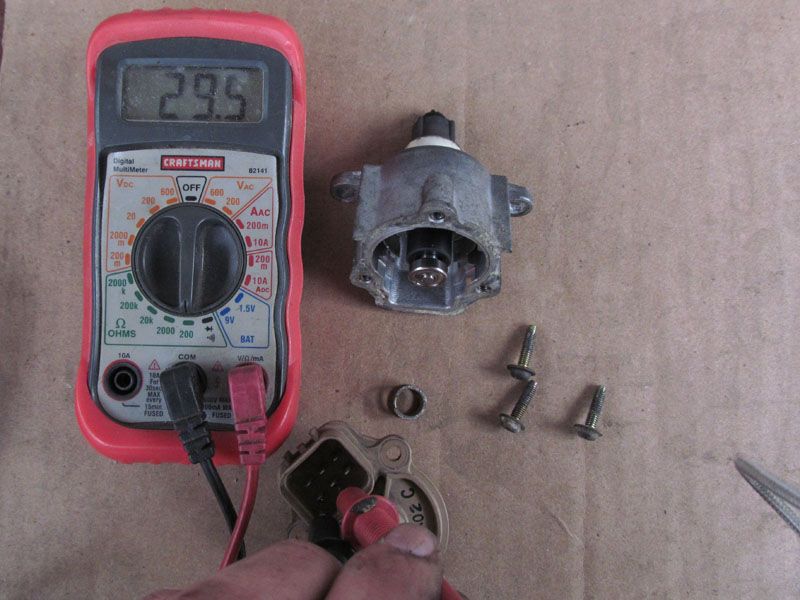 Early IAC's are ~30 ohms. Later ones are 40. The exact number isn't horribly important as that none of them are -0- or infinite. Check left to right top and bottom. If ANY readings are -0- You may have damaged your ECU. More info on that later. If any readings are infinite, throw it away and get a new one. Now that you have confirmed it can work, its time to make sure.
If the insides are clean and shiny, reassemble using a VERY LIGHT coating of silicone sealer. If its NOT clean and shiny and instead is rusty and ugly, its another candidate for the trash can. Light corrosion may be able to be cleaned up. Its your call.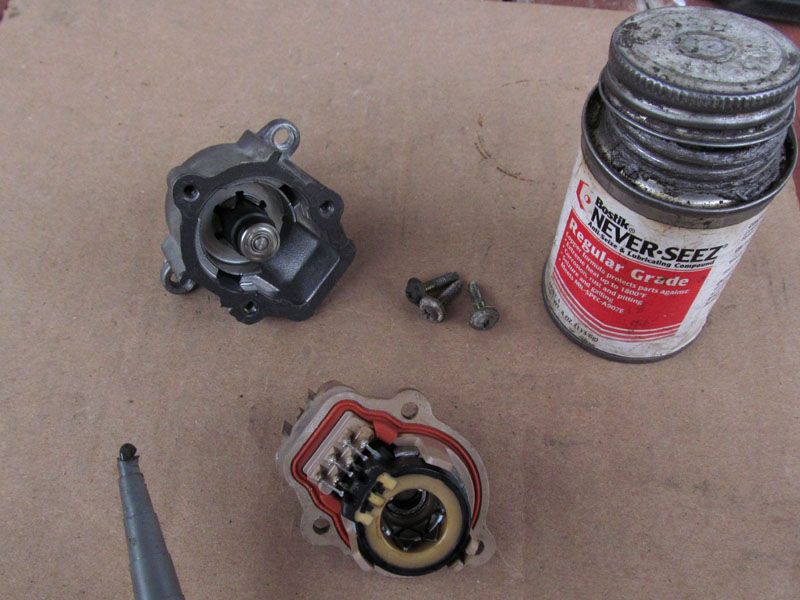 Now turn your attention to the TB. There is an o-ring to seal the IAC to the TB. It needs to be in good condition. Carefully remove it from the IAC well. Make sure its still mostly round and not torn. There may be corrosion where the IAC mounts. Clean it off with a wire brush.
Next get out the TB cleaner. Any carb cleaner that contains water or methanol is junk and wont do the job. Look for warnings of petroleum distillates for the good stuff that will clean. (My favorite is Berrymans) Clean the TB inlet and butterfly along with the IAC well. There is a passage between the two and if your TB is badly gunked up the passage may be clogged. The IAC cant do its job if that passage isn't clean.
Now you can put your IAC back in. Save yourself a future headache by using never seize on the bolt threads. Steel fasteners LOVE to corrode in aluminum. A little dab will ensure you wont have to drill those bolts out the next time you have to do maintenance. I like to use some silicone grease (not sealer) on o-rings to keep them pliable over time. Push the connector on and replace the air duct. Start your car and you should have smooth idle again. If you don't….. well I'll add some pitfalls for you to check next.
Further proof the IAC is working correctly
Turn on your AC. Idle will raise to around 1000 RPM to allow for AC loads.
Turn your wheels to lock. Once again IAC will raise idle to keep the power steering pump from stalling the engine.
If you have a scanner of some sort you can also read the IAC "counts" typical idle is about 25-35. On my car the count is 68 when the AC is on. If its way off, you may need to adjust the BISS screw.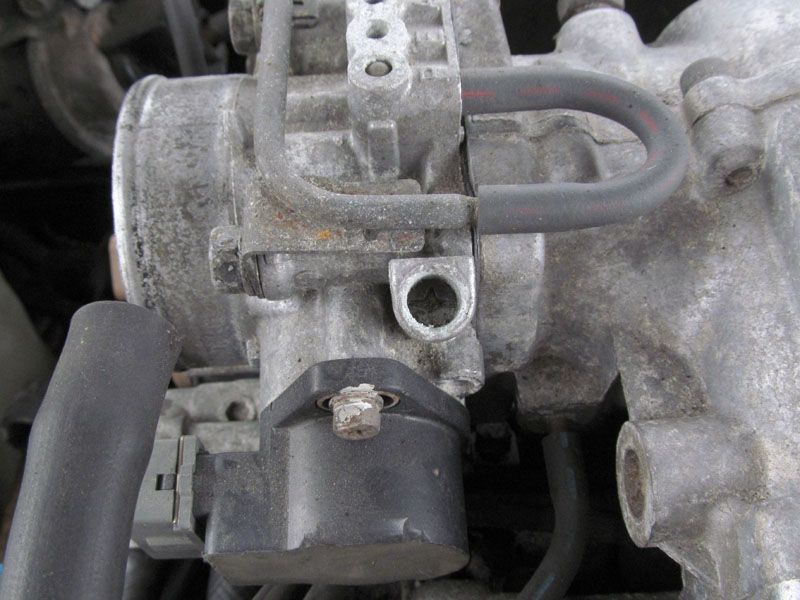 Idle is smooth but wrong RPM.
Typically this problem is from someone else who didn't read the manual before trying to adjust the idle and just screwed around with the most obvious screw. The BISS screw. There is supposed to be a plug on it to hide it from people who don't read but they either don't get put back in or fall out. If you are doing anything with this screw, stop and get a new o-ring. Most of the time the oring has dried out and fallen apart.
13A-55 of the manual has the proper instructions for setting the BISS screw. FOLLOW THEM! It varies for the generation of car you are working on.
Idle is high.
Did you just R&R the plenum? You might have been careless and now have a vacuum leak. Vacuum leaks can be caused by more than just the connections of intake components. Look and listen carefully to find out where the leak is and correct the problem.
Car wont start or idle at all.
You shouldn't be reading this. You have multiple OTHER problems related to timing (cam or ignition) spark, or fuel. There are other threads and posts that will help. Start with navigating to NA or turbo engine forums and use the "search this forum" for the most relevant results. You can also try the new owners forum as well.
IAC was shorted
Waiting for some ECU pics from rymer where he has seen of meltdowns from shorted IAC's. I'll post them when he reappears again and sends them to me.
Anything I missed? Let me know. I have an edit button and I know how to use it!
I hope this helped to straighten out idle problems you may have encountered.
-SP