Hi All,
As many of you are aware I have devised a way to convert a JDM 180km/h speedo into a 280km/h speedo [this also works if converting a USDM 180mph unit to 280km/h]. For more info please look at the origional thread.
http://www.3si.org/forum/f155/eoi-group-buy-280km-h-speedo-506471/
This will show you the exact steps required to do this.
Firstly you need to source a new speedo face. People who got on board the origional group buy from Lockwood have this part sorted. For anyone else there are a few options. You cna use a USDM speedo that has the mph on the outer ring and in smalled print on the inside it will have the km/h. Tis will probably be the cheapest method as you could simply buy a USDM speedo and modify the board and your done. Look on ebay for those. Just make sure it's from a VR-4/Twin-Turbo as the none turbo/SL models have the wrong type.
USDM 180mph Speedo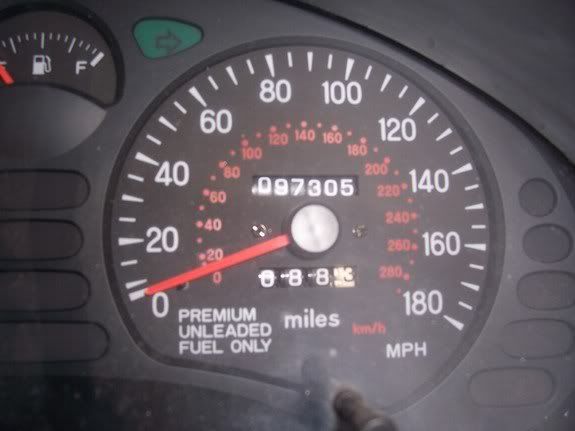 Alternatively you can source an aftermarket speedo face or have one custom made. There are a few vendors on ebay selling speedo faces for our cars but are all aimed at the USDM market. However I have seen a few of them statign that they can make any speedo and to contact them to discuss. There are also dedicated businesses that make speedo face. One of these is Lockwood in the UK which is who I used for the origional group buy.
Mitsubishi GTO dials & gauges, Speedo meter clocks, KMH to MPH conversion. By Lockwood
Also SpeedHut has a facility to design your own speedo via their website and it will give you a price. The site lists the mph speedo but I have previously contacted them and they did advise they are able to make new gauges with only the km/h on them. But obviously you would need to contact them before placing an order. Also the SpeedHut guages are glow guages not the standard OEM style so you would also need to wire them in.
Mitsubishi Gauge Glow Dials and Custom Gauges by SpeedHut
There are others around as well. Google is your friend.
Now that you have sorted the replacement face we need to make the hardware work. Firstly you will need some basic soldering skills to complete this. Obviously you will need to remove the cluster from the car. To do this there is only 6 screws.
2 screws along the top under side of the cluster sorround. Remove these then pull the it outwards carefully. Then once it has come loose you will need to unplug the 2 plugs. One on each side for the ECS switches etc. You will need to make sure your steering column is lowered as far as it will go. Slide the surround out the left side.
There are 4 screws holding the cluster in place. Remove these then pull the cluster towards yourself. You might have to wiggle it a bit side to side etc. Once it's loose you need to lay it backwards away from your self then it will slide out the left side. Remember the angle it came out so you can get it back in again.
Now that the cluster is out you need to remove the clear plastic screen buy pushing in the clips around the edges. You will also need to remove the ODO reset rod. To do this you need to place your fingers o nthe speedo face surface on either side of the rod the npull the rod out. Once this is off you need to do the same for the black plastic part.
Be careful not to touch the dials too much etc.
Once the plastics are off turn it over and place it on a rag or similar. There are 4 screws on the back holding the speedo assembly in. Remove these.