I'm starting this thread to document the progress of my newly acquired 1999 VR4. I was not looking to buy another car since I already don't have enough room and I'm trying to finish up my 94 stroker single turbo car. However, while looking at used VR4s for a coworker, I came across this car -only an hour and a half from me- and absolutely had to pick it up. I went look at the car on Feb 24th and then brought it home on March 3rd.
This '99 has 124,000 miles, is number 175, black on black, fairly stock (ebay exhaust, ebay front turbo manifold, ebay mbc, and who knows what brand Y-Pipe) - more on this later - and I'm the 3rd owner. It has some flaws in the paint, fading on the sail panels, and some side swipe damage on the driver rear quarter (not too bad, but enough for me to be upset about it). The deeper scratches were covered up by fingernail polish
. I have the full history of this vehicle, the power antenna, both front regulators, timing belt (belt only), and transmission (due to leaking) were all replaced fairly recently.
The driver turn signal was cracked and headlights were yellowed pretty bad when I first picked it up. Luckily I had bnib 99 turns already and quickly swapped it out then buffed the headlights to a much better condition.
Right now I am having an annoying issue with the CD player. I had put in an old CD on the 2nd day I owned the car and E03 displayed; nothing played and the CD could not be ejected. Looking it up revealed a disc load error. The next day the CD ejected and I threw that CD away. CDs loaded and played fine after but yesterday while cruising, I was finished with a CD and tried to eject it, but the button did nothing and the CD continued to play.
My plans for this car are to:
Get the 120k and all other maintainance done ASAP -
COMPLETED
get the exterior back to showroom condition (interior is close to mint already)
Put a set of matching tires on (currently has 3 different brands) -
COMPLETED
suspension(
complete
), driveshaft, and engine mounts(
complete
) need attention
Take all the BS eBay parts off and replace with quality/rare parts -
COMPLETED
Bring the sound system up to par
Later on, I plan to have the car up to BPU and possibly upgraded turbos, but nothing too crazy...
Current Mod list-
Flash tuned
Greddy boost gauge
AEM X series wideband
Greddy full auto turbo timer
DNP Precat Deletes
ATR downpipe
IPS 4" titanium HKS carbon/Ti exhaust
EGR blockoffs
DNP Intercooler piping
DSM SMIC
Dejon Preturbo piping
K&N FIPK
Evo 9 bov
Maximal Solid front and rear engine mounts
Kyosan/Denso Supra Pump
3SX fuel loop
Ksport coilovers
Hawk HPS pads
Volk GT-C's F19x8.5 +27 R19x9.5 +24
Michelin Pilot Sport 4S tires
Charcoal canister removed
-------------
Shortly after purchase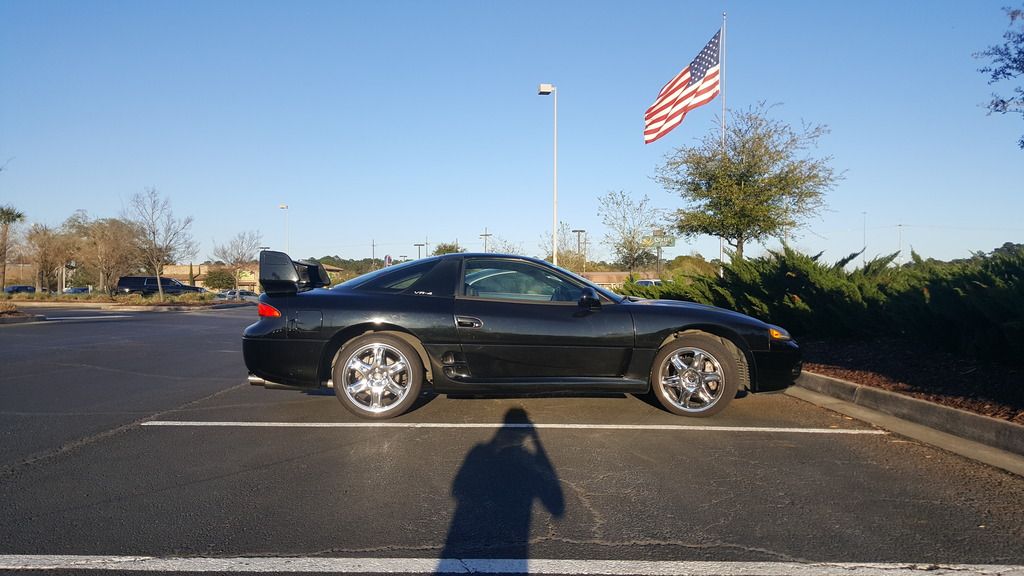 The next day after a needed wash
I picked up a few small powder coated items and a black ebrake handle with boot to replace my worn one from DrGonzo.
And taking her out for a drive with my girlfriend yesterday