If you're reading this you obviously know the benefit of a Pre-luber.
This device uses pressurized oil to "pre-lube" your engine before dry
starting. Here is a link to the manufacturers site for more details.
AutoEngineLube Pre Lube System Reduces Engine Wear Up To 60%
I can't say enough about the good customer service from the guy who
sells this product. He has provided great communication regarding shipping, and has quickly answered e-mails for technical questions, even on the weekend...
Another important note for anyone that buys this kit based on this review...
PM me your name if you do, because if I (or anyone else that buys the kit) refers anyone else who buys the kit, there is a $20 incentive
And by the way, I am NOT affliated with the company in any way - just a customer
On to the install:
Since I have my battery in the rear, space was easy to find...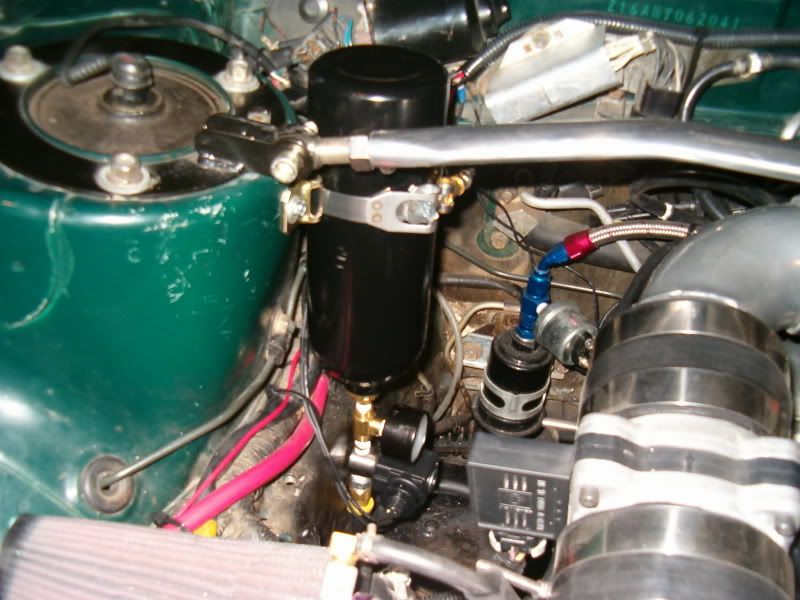 Close up of pressure gauge and solenoid valve: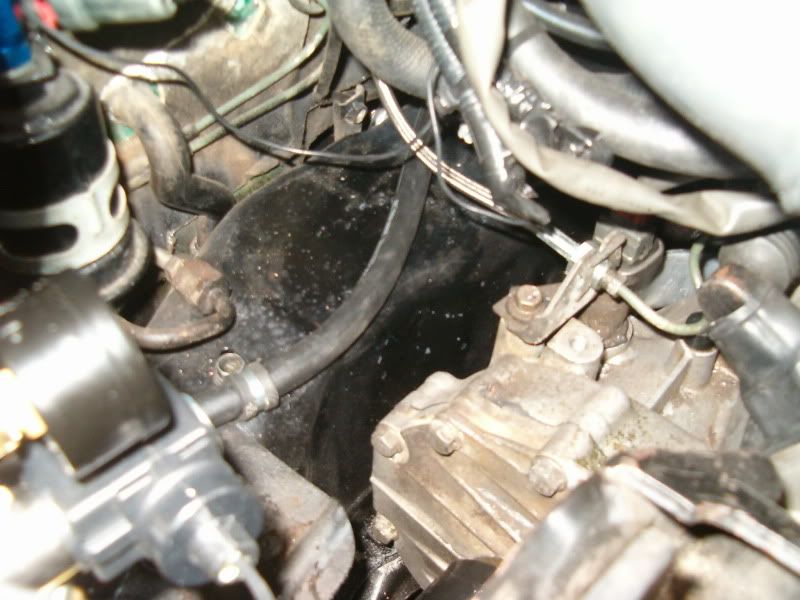 Connection at the block:
This is just a T fitting, with luber in one side, and pressure switch on the other....all fittings are supplied, which is nice. Not much clearance at all, but it seems to work. Longterm I am going to look for a BSPT Tee...because it's supplied with a BSPT to NPT adapter, it stands off pretty far from the switch fitting. **EDIT: See pic below...I revised this connection by using a BSPT Male (with 2 BSPP females) Tee fitting and 1/8 BSPT (male) to 1/8 NPT female adapter for alot more clearance. These were from Mcmaster Carr...
BEFORE:
AFTER:
The typical installation uses just a 12V source that turns on in the "run" position...I opted to wire thru a switch so I had more control over the opening and closing of the solenoid valve...this is an old aftermarket illuminated fog light switch I had, which is nice because in the "on" or "solenoid open" position it lights up...when "off" or "solenoid closed" the switch is dark...
Other details:
Kit uses quick connect brass fittings with Parker 350 psi hydraulic hose. All fittings, and electrical parts are included. The only thing I supplied was the switch...which was nice. Accumulator tank is powder coated aluminum, good for 500+ psi if I remember correctly. The parts are all VERY GOOD quality!
The tank fills and pressurizes very quickly. After cycling it for the first time, the pressure gauge on the accumulator read 80 psi, and held it over night, and should hold it for a very long time. When activating the solenoid, it pushes oil into the engine pretty quickly...I need to do a little more playing with it, but Im pretty sure oil was making it's way all the way to the heads even...
Before opening the solenoid, I verified the oil level by the dipstick...sure enough it went from the top mark to the bottom (about 1 Qt).
What really attracted me to this kit was its simplicity...although not advertised as a surge control device, it could be used as one, although it would be manually, and you would only have (1) Qt....which is better than nothing. I bought it strictly as a pre-lube device.
Note: The manufacturer sells other (larger capacity) kits. I bought the 1 Qt. kit.
I'm sure I'm leaving something out, so if you have any questions, let me know, I'll try to answer them.