Discussion Starter
·
#1
·
Going to call out warzone already i'm essentially doing this build because of him.
So heres the car when i first bought it.
At this part i was just trying to catch up with the maintenance.
Did the 120k cam seals, front crank seal, Timing belt, idler pullies etc etc..
First mod was a cai and trying to clean up the engine bay a bit
Clutch went out so picked up an exedy stage 1 clutch, Competition clutch 14lbs chromoly flywheel, Did the clutch damper delete, Ran a braided clutch line,
Then half way through putting it back together decided screw it and did the vr4 front end conversion,install coilovers,drilled rotors, ceramic pads, braided brake lines from 3sx, motul brake fluid. And replaced the control bushings with poly. Honestly just because cost a ton and a took a long time to source the parts. No idea why i went with red on the trans but steam cleaned it sanded ti down and painted it because it was getting corroded and thought why not? Im in AZ with no garage so doing anything sucks balls in 120 weather
After all this installed the new wheels i bought before the clutch went out and i made a mid build decision to do a conversion so of course i needed spacers to make the wheels fit with the Stealth TT calipers.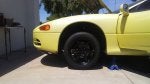 Then went and had a 2.5in single exit exhaust made
Currently doing headers, IMR intake plenum, q45 TB, and 3.5in Cai to adjust for the new TB.