Well after kicking around all kinds of ideas despite knowing exactly what i
should
do i decided to do what ive always wanted to do since im not chasing records or huge numbers.
Im using IPS's manifolds and downpipe with the 4" titanium carbon/ti exhaust, the rest i will be making myself.
I am going to use an air/water intercooler from frozen boost along with a 26x7x3.5 heat exchanger with 3 1100cfm fans that are going to run full time in pusher mode to try to keep the turbulence down between the exhanger and radiator which im hoping the stock one will do to keep as much clearance as possible between the turbo and downpipe. Also will run the twin SPAL pushers that IPS includes with the kit whenever i get to that point, i will probably have them on a manual relay and just have them on full time as well, but individially controlled, one will go live when the car is keyed on and the second on the manual relay until i see whats needed, im trying to keep it really simple right now.
But with the a/w IC i figure im going to have at most about 12" of IC piping on the car
I was pretty set on the comp turbo 6765 oil less turbo but the deeper i dig the more questionable stuff i read about their turbos. 2k is a lot to drop on a turbo only to find out it spools like a 4294 and makes the power of a 4088. So, im still trying to decide. I've already committed to a 4" downpipe which limits my turbo options somewhat. Im pretty sure the off the shelf PTE 6765 has a 3 or 3.5" turbine housing, so i can either mod the downpipe or get a custom turbo which will cost more...
So, im fairly tempted to just get an off the shelf 4294 which is very cheap and really not
that
big when talking single turbo. Just dont think the boost recovery on a journal 94mm turbo is gonna be very good. But if its lit at 4500 im okay with that for now since a 3.5 is going in the car this time next year and for now im gonna set my rev limit to 8300 rpms to help 1st/2nd out.
Anyway, i started the tear down yesterday afternoon but got sidetracked and didnt get much done, but today ive been able to just poke along and take my time, fairly enjoyable how easily things come apart when they are put together properly
Anyway, heres the pics so far:
Before i got started...
Getting most of the clutter out of the way..
Ready to start in on the turbos..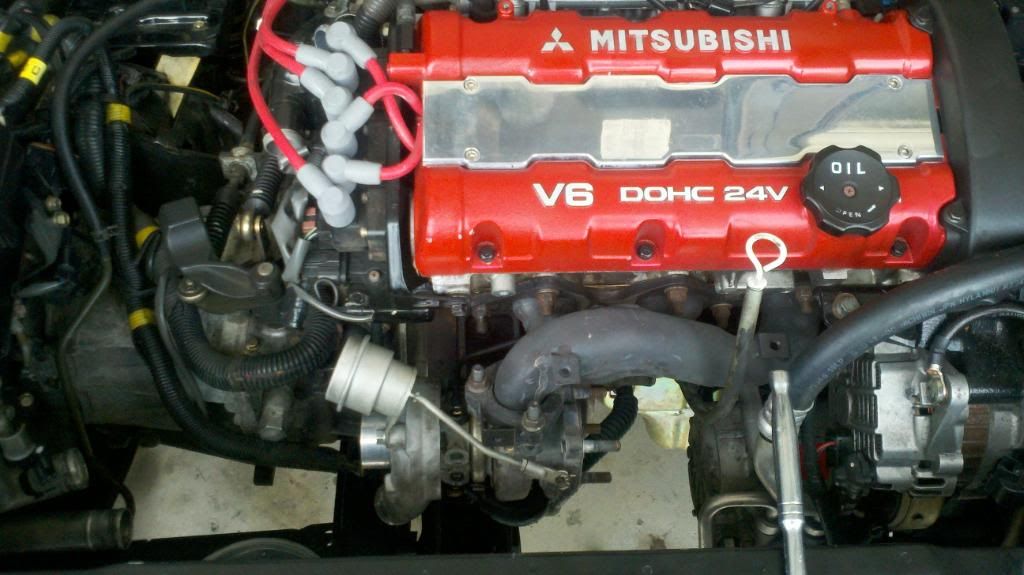 One of my favorite 3sx goodies
Oh and this pic is kinda amusing...typical 3/S owners..lol two cars with the hood up in the same garage....lol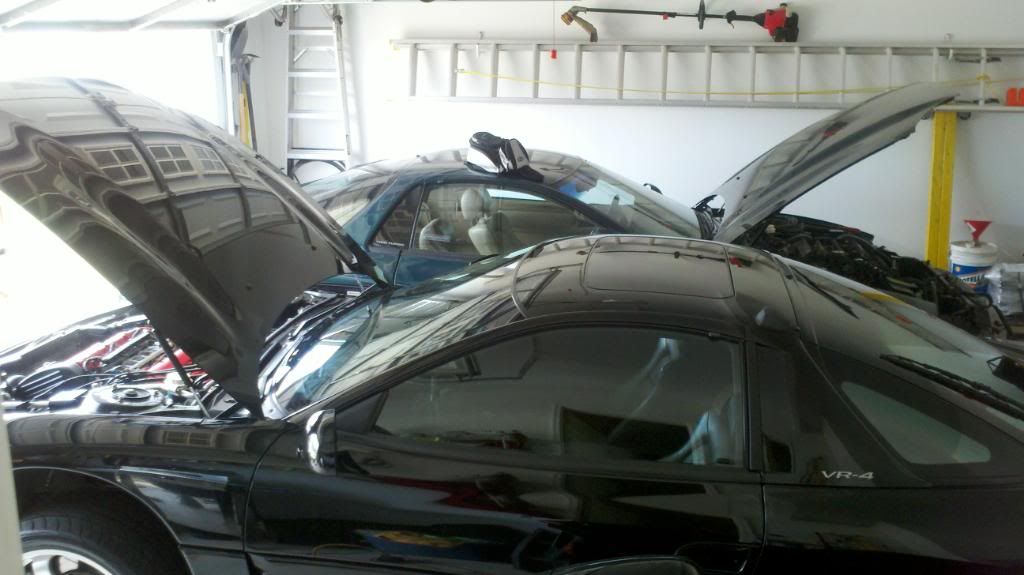 Will post up in a little bit with more progress pics of the tear down....
Jason