*Additional Updates, Edits, Pictures, and Commentary.*

6/15/2016: Updates, and rehosted missing pictures.
Hey guys,
As many of you know I wrecked my blue car (sadly) into a Tree and the damage was beyond a sane level of repair.
Few months prior this car had shown up on my local 3/S facebook page, and while I had ATON of interest in it, it just wasn't practical for me to pick up a 4th car.
Well, now was the perfect time - I set up a time to go look at the car and check it over to get and idea of what it needed, The car was exactly what I have been looking for...
1G
Sandstone Gray paint
Removeable Glass sunroof
Charcole/Gray/Black interior
VR4 (I would have gladly been fine with an SL assuming the rest was good)
OK, it wasn't perfect - the paint is shot - need some body love, and its not exactly rust free...but it is pretty much so on the parts that mater (Structural, frame, stuff not easily replaced, etc.) and it wasn't the 100% Stock, one or two owner car either...it had its share of abuse, and had been modified in the past, no Engine or trans - I've already found a few surprises and see more in my future I'm sure.
Two weeks later I showed up with a trailer, loaded it up, and brought it home.
It had been sitting for a fair amount of time, driven briefly again, and then pulled apart where it sat and collected dust. Thank fully the owner who is an awesome dude was resisting parting the car out because he didn't want to kill it off and send it to the junkyard...
We also drove through a Tornado on the way back...that was fun lol
"...Why is everyone parking under the underpasses/bridges?" haha
Also shout out to my man Kyle, Best friend, fellow hoon, and 3/S partner in crime for helpin me out like always to lend a hand loading and unloading car, as well as just hanging out - and keeping me motivated.
Anyways to the Fun Stuff. (I apologize in advanced if some of the pictures are blurry - often they look fine on my phone until I look at them on the computer)
PRE-Tornado...just stopped at gas station for celebratory Cigars.
Home
Lets check it out....
Here you see my 5 Speed AWD Trans + Tcase + parts hiding in the corner; that another local member/friend gave me a steal on.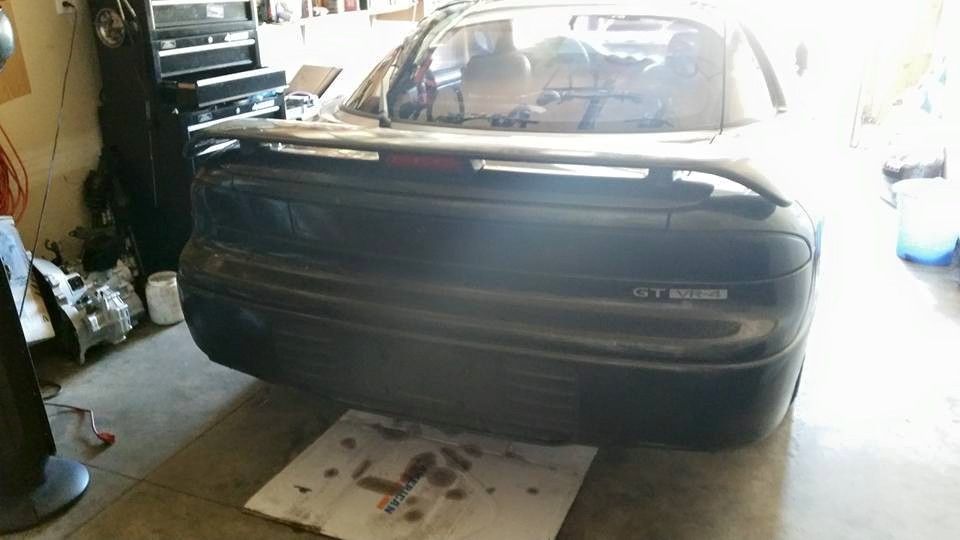 Very Excited to have the glass roof again, I missed it so much. * I have glass - its just removed in this picture to help air out the car - it kinda smelled from sitting...
Interior needs MAJOR love. *Dont we all?* #foreveralone haha.
High miles don't scare me...I like to think of them as points
DIY Rear mount battery box - started process of removing it..I don't want that in there...